Kuali is a healthy, all-purpose vegetable cooking oil made from freshly picked palm fruits from United Plantations. Thanks to the mild refining process of premium crude palm oil, which retains the natural nutrients in the oil, Kuali is known to be one of the best quality cooking oils in the market.

How to Enjoy
Kuali means wok in Malay. Kuali is very heat stabile and thus excellent for cooking and frying at high temperatures. With its clear, golden colour and neutral taste, Kuali will bring out the natural flavours and colours of any dish.
Nutritional benefits
Kuali is rich in naturally occurring Vitamin E (tocopherols and tocotrienols), a strong antioxidant, which makes the oil oxidative stabile and extends the fry life of the oil.100% natural, GMO-free and contains no additives, cholesterol or trans fats.

Packaging
2 ltr and 5 ltr PET bottles.
---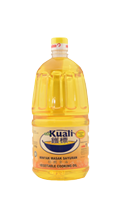 Kuali 2kg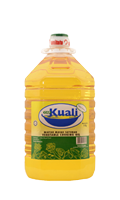 Kuali 5kg
---
Packaging
250, 500, 750, 1000 ml glass bottles. 500 ml glass bottles.
---

Hazard Analysis and Critical Control Point (HACCP)

HALAL Certificate

Kosher Certificate

RSPO Trademark Liecense

ISO 9001:2008 Qualityy Syatem

British Retail Consortium (BRC) Global Standard For Food Safety
Unitata Berhad (10769-H) - Jendarata Estate - 36009 Teluk Intan Perak Darul Ridzuan - Malaysia.
All rights reserved. Unitata is a registered trademark and part of UP - United Plantations Berhad. Terms condition, features, availability and general are subject to change without notice.