The first integrated refinery complex
In 1971 United Plantations were among the first plantation companies that ventured into the refining business in Malaysia by establishing the integrated refinery complex, Unitata. The refinery began production in 1974.
Unitata was a joint venture between United Plantations and the Indian Tata Group, each holding 50/50 shares. This European and Indian connection brought together two vital links. It was the largest and most fully integrated refinery of its kind in South East Asia. And the initiative of the Senior Executive Director, late Tan Sri Børge Bek-Nielsen, who had a vision of keeping value creation in the region.
In the 80's the refinery extended its production facilities with a soap factory, supplying soap noodles to manufacturers all over the world. Unitata did also manufacture beauty soap bars such as the famous Cussons Imperial Leather for a number of years.
Initially a bulk producer of vegetable fats and soap products, Unitata has since evolved into a premium producer of speciality fats in collaboration with our business partner, AAK, the world's leading supplier of specialty oils and fats.
Today, Unitata focuses primarily on making customized, high-end palm oil products, which meets customers' demand for quality, sustainability and traceability.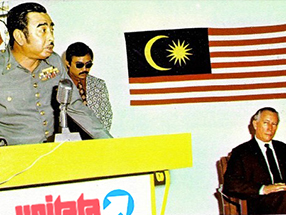 Unitata Berhad (10769-H) - Jendarata Estate - 36009 Teluk Intan Perak Darul Ridzuan - Malaysia.
All rights reserved. Unitata is a registered trademark and part of UP - United Plantations Berhad. Terms condition, features, availability and general are subject to change without notice.