In the vicinity of United Plantations' Jendarata Estate, next to Unitata Refinery, you'll find the Bernam Bakery. Renowned for its Danish pastries and hand made butter cookies, the bakery is a proud supplier of sweet indulgencies to Royals and locals alike.
Danish recipes since 1982
The Bernam Bakery was founded by the late Tan Sri Bek-Nielsen, former CEO of United Plantations, who brought his good old friend and master baker, Mr Robert Pedersen, to Malaysia in 1982, where they started up the bakery. The company's bakers were taught to make the secret recipes of vanillekranse, marzipan bread and raisin bread, which Pedersen had brought with him from his father's bakery in the hometown of Holstebro in Denmark.
Anybody who travels the road between Sabak Bernam and Teluk Intan should treat themselves to a visit at and a delicacy from the authentic Bernam Bakery. The bakery is open from 9 am to 6 pm every day except public holidays. Special orders can be made upon request at +6056411336.
How to find the Bernam Bakery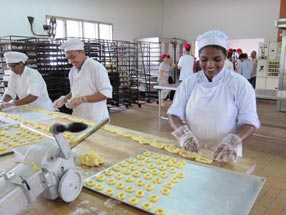 Unitata Berhad (10769-H) - Jendarata Estate - 36009 Teluk Intan Perak Darul Ridzuan - Malaysia.
All rights reserved. Unitata is a registered trademark and part of UP - United Plantations Berhad. Terms condition, features, availability and general are subject to change without notice.