NUTROCOCO VIRGIN COCONUT OIL
NutroCoco Virgin Coconut Oil is made from the milk of freshly picked coconuts grown at United Plantations in Malaysia. The oil is cold pressed to retain the fresh scent and mild taste of coconut milk. Cold pressed virgin coconut oil is rich in natural medium chain triglycerides (MCT). 100% pure and natural, NutroCoco contains no cholesterol, trans fats or additives.How to enjoy Enjoy NutroCoco Virgin Coconut Oil as a dietary supplement (1-2 tbsp daily), a healthy oil for cooking and baking, or add in muesli, porridge, smoothies and warm dishes.Tip:NutroCoco can also be used as a natural moisturizer for skin and hair care.
Nutritional Benefits
According to research*, virgin coconut oil has many beneficial qualities:
Helps fight infections
Stimulates metabolism and helps in weight control
Helps to promote healthy lipid profile and good heart health
Helps prevent premature ageing
Antibacterial, antifungal and antiviral properties
Leaves skin soft and smooth
Promotes healthy and shiny hair
---

NutroCoco Virgin Coconut Oil - 150 ml

NutroCoco Virgin Coconut Oil - 320 ml

NutroCoco Virgin Coconut Oil - 125 ml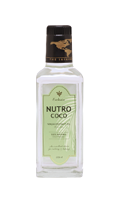 NutroCoco Virgin Coconut Oil - 250 ml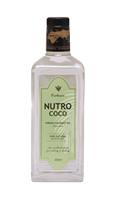 NutroCoco Virgin Coconut Oil - 500 ml
---
Packaging
NutroCoco Virgin Coconut Oil is bottled under stringent hygienic conditions in our state-of-the-art filling plant.Available in 150 ml. and 320 ml. glass jars and in 125 ml., 250 ml. and 500 ml. glass bottles
---

Hazard Analysis and Critical Control Point (HACCP)

HALAL Certificate

ISO 9001 : 2008 Quality System

British Retail Consortium (BRC) Global Standard For Food Safety
Unitata Berhad (10769-H) - Jendarata Estate - 36009 Teluk Intan Perak Darul Ridzuan - Malaysia.
All rights reserved. Unitata is a registered trademark and part of UP - United Plantations Berhad. Terms condition, features, availability and general are subject to change without notice.