A Danish-Malaysian plantation company
Unitata sources certified sustainable palm oil from its parent company United Plantations.
United Plantations was founded in 1906 by Mr. Aage Westenholz, a Danish artillery officer. In the early days, the company cultivated rubber as the main crop. Rubber was gradually replaced by coconut in 1912 and oil palm plantings starting in 1918.
Today, United Plantations main business activities are focused on responsible cultivation of oil palm & coconuts. Its total land bank covers 63,000ha spread over Malaysia(75%) & Indonesia(25%) of which 51,000ha is cultivated and the rest being conservation areas, roads, drains, railways lines and others.
United Plantations is one of the most efficiently managed, eco-friendly and integrated plantation companies in Malaysia and is well known globally for its best agricultural practices and high quality standards.
In September 2008, United Plantations was awarded as the world's first certified producer of sustainable palm oil by The Roundtable on Sustainable Palm Oil, (RSPO). Its focus on sustainable palm oil cultivation is of high priority and an important cornerstone of the UP Groups continuous development.
Check United Plantations' RSPO progress report at www.rspo.org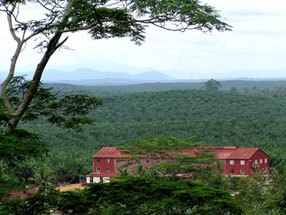 Unitata Berhad (10769-H) - Jendarata Estate - 36009 Teluk Intan Perak Darul Ridzuan - Malaysia.
All rights reserved. Unitata is a registered trademark and part of UP - United Plantations Berhad. Terms condition, features, availability and general are subject to change without notice.