Certified sustainable palm oil
Unitata has a unique advantage by the fact that all its palm oil is sourced directly from our parent company, United Plantations. In September 2008, UP was the first palm oil plantation in the world to become sustainably certified by the Round Table on Sustainable Palm Oil, www.rspo.org. UP's integrated refining complex, Unitata, became Supply Chain Certified to handle sustainable palm oil in December 2010.
Unitata can supply the following products as certified sustainable under either the Identity Preserved (IP), Segregated (SG) or Mass Balance (MB) supply chain model:
Refined Palm Oil
Refined palm olein
Refined palm stearin
Refined palm kernel oil
Refined palm kernel stearin
Industrial shortenings and bakery fats
Go to products
Unitata and United Plantations' transparent and traceable supply chain is a guarantee for customers that the palm oil they purchase is of high quality and based on responsible, social & environmental, ethical practices.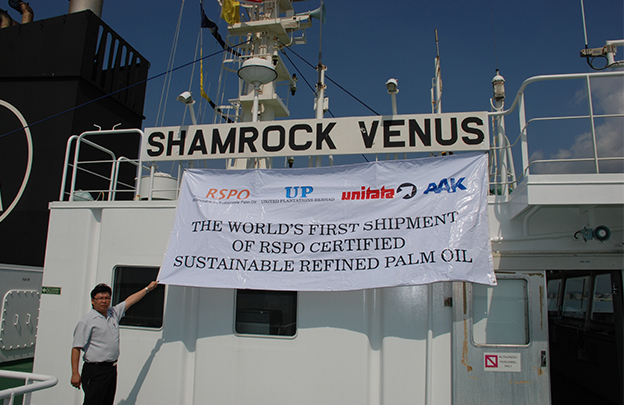 Unitata Berhad (10769-H) - Jendarata Estate - 36009 Teluk Intan Perak Darul Ridzuan - Malaysia.
All rights reserved. Unitata is a registered trademark and part of UP - United Plantations Berhad. Terms condition, features, availability and general are subject to change without notice.