Reducing energy use, waste and emissions
At Unitata, we are very much aware of the footprint, which our refining facilities leave on the environment. Producing vegetable oils and fats is a complex and energy intensive process. We therefore set targets to reduce our consumption of energy and water and to reduce waste and emissions.
Some of the things we practice for environment preservation include the following:
Treated effluent water is used for land application i.e. diverted to the furrows in the plantation instead of releasing into the river (approved by DOE)
Spent nickel catalyst is disposed for recycling by approved parties
Spent lab chemicals and solvents are collected by Government approved Kualiti Alam for treatment and disposal
Used paper and cartons, plastic (bags, PET bottles etc), scrap metal, spent lubricant oil - sold to approved vendors for recycling
Steam from biomass boiler supplied by United Plantations is used in the refinery processes
Biogas from United Plantations' biogas plant is used in Unitata's boilers instead of medium fuel oil (fossil fuel)
Spent bleaching earth is used for landfill
Cartons for packed products are sourced from suppliers who are using paper fibers from FSC-certified mills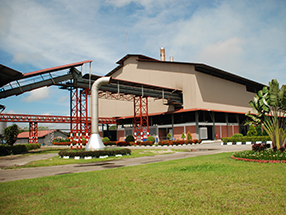 Unitata Berhad (10769-H) - Jendarata Estate - 36009 Teluk Intan Perak Darul Ridzuan - Malaysia.
All rights reserved. Unitata is a registered trademark and part of UP - United Plantations Berhad. Terms condition, features, availability and general are subject to change without notice.